It's that time of year again when everyone drinks and eats more than any human should, CHRISTMAS!!! I am one of those intolerable people who believes the festive season starts on the 5th of November. I just adore the whole run-up to Christmas, the proliferation of period dramas on the BBC, the fact that everything is cinnamon scented, and that wrapping up and hunkering down is compulsory. Our tree isn't up yet but it will be very soon, so now seems like the perfect time to post a round-up of 5 exciting things to do this December, so grab a mug of something hot and have a read.
Until the 30th of December as night falls in Edinburgh's Botanic Garden's you can visit a spectacular light show. The mile-long trail includes a Crystal Lawn and a Choir of Trees, and mulled wine, spiced cider and hot chocolate can be drunk on the way around, keeping you nice and toasty. I'd recommend buying tickets in advance to save some pennies, adults cost £14 and children are £10.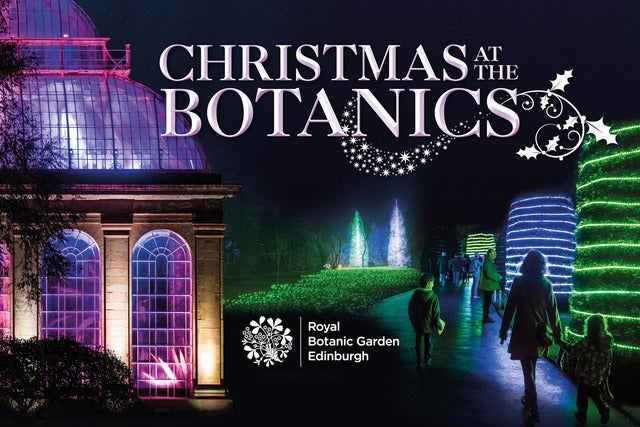 2. Christmas at Edinburgh Castle
Mary Queen of Scots will be celebrating the twelve days of Christmas with her courtiers from Saturday 23rd December 2017 to Friday 29th December, and visitors can learn more about having a proper Victorian Christmas with all the trimmings as part of Traditions and Tales of Christmas, which runs from Tuesday 19th December 2017 to Friday 22nd December. Both of these events are included in the price of your ticket, which I think is great value, and entry is of course free for Historic Environment Scotland Members. You can also enjoy a swatch in the gift shops which are full of Christmassy treats, and the cafes in the castle will also be serving up festive fare.
3. Victorian Christmas at Falkland Palace
The village of Falkland is so picturesque, it's one of my favourite places to visit in the Spring, but I will definitely be giving it a visit this month too. On Saturday 9th and Sunday 10th of December between 12 and 5 at Falkland Palace you can listen to live festive music in the Chapel Royal, learn about the Victorian Christmas traditions that transformed the celebrations into the holiday we know and love today, and try your hand at some period arts and crafts. There will also be Victorian school games and handmade Christmas gifts and decorations, delightful. Tickets cost £6.50 for adults, £4.00 for children and £5.00 for concessions. 
There's everything from Santa Visits to Photography Tours, but what I think is the most exciting are the Enrichment Days, which take place on the 26th, 29th and 30th of December. During these sessions you can watch as the animals are given their Christmas themed presents whilst listening to a talk by the Keepers, can you think of anything more adorable?! The sessions are included in your entry price, book online and in advance to save pennies, and you can say hello to various wintery creatures like polar bears and snow leopards.
5.  Get Outside
Scotland looks incredible in Winter, you may have to layer up and drink something hot afterwards to defrost, but that's part of the pleasure. There are so many places to recommend, but you'll know where the best walks are in your area. One of my favourite places on earth, at any time of year, is Loch Lomond, and Glen Affric in Winter is nothing less than spellbinding.
Let us know if you partake in any of these festive activities by getting in touch through our twitter or facebook, and MERRY CHRISTMAS!
-Rachael